We don't have San Simeon or Xanadu in New York, but we do have the Williamsburgh Savings Bank, a Beaux-Arts temple to wealth at the foot of the Williamsburg Bridge. That's where Kate and Laura Mulleavy staged their Rodarte show on Friday — the first big-name show of the fall ready-to-wear season. Under the dome, and with plenty of low, grim lighting for atmosphere, the Mulleavys set up a series of food-laden banquet tables, except the cakes and other details were all coated in silver paint and glitter, an obvious nod to Tinseltown. The sisters, of course, are from Southern California.
The glittery setup, and the general creepiness, made me think of the banquet scene in Mank, the 2020 David Fincher movie about the making of Citizen Kane, when Gary Oldham, as the screenwriter Herman J. Mankiewicz, crashes a party of swells and moochers at the Hearst Castle. What struck me most as the models paraded out in their black gowns and silver metallic fringed glamour coats was that the Mulleavys are really conscious of the sparks of light that great black-and-white films could produce, either directly — Jean Harlow's blonde hair, for example — or through a reflection. It's the kind of artifice that in turn produces intrigue and mystery, a feeling that not everything is as nice and pretty as it appears on the surface.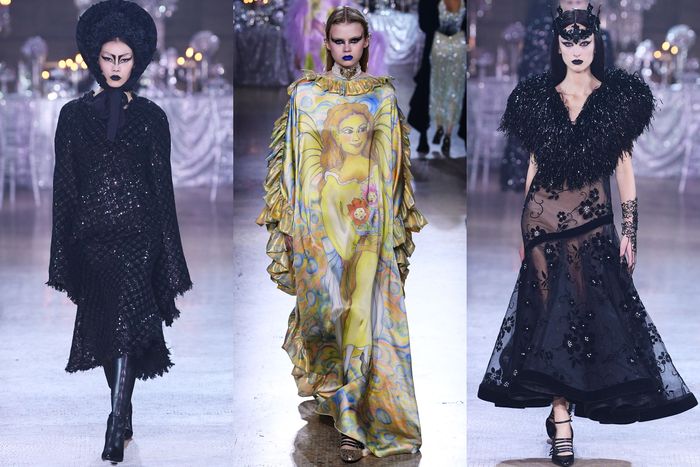 The Mulleavys said the collection started this past April when they asked their mother, an artist, to draw her notion of faeries, then things progressed to a gothic fairy tale. Hence the dominance of black, the long drippy Morticia Addams sleeves, the heavy makeup, and the odd but satisfying allusions to mid-19th-century upper-class finery, notably a stovepipe hat, frilled bonnets, and lace mantles. Most of the clothes, the best of them, were in the mood of the 1930s, even a touch of the flapper 1920s (fringe beading) and the parallel era in sexual liberation, the 1960s (two all-over hand-beaded pants outfits with tunics in mint green and lilac). The original faery drawings turned up as blown-up prints on flowing silk gowns. Those were wonderfully dreamy, not to mention distinctive.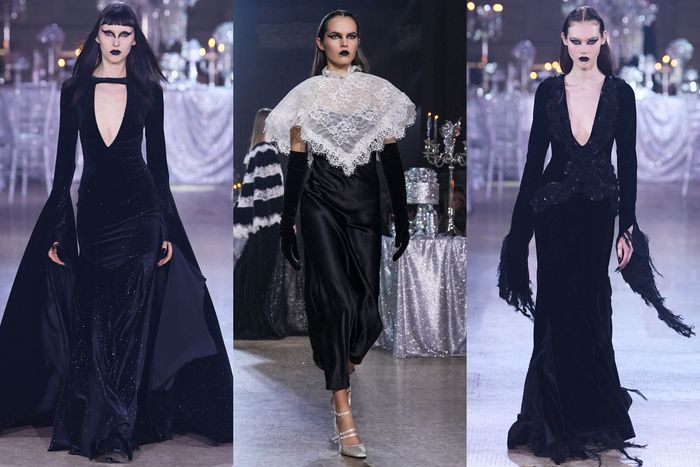 Compared to other Rodarte collections — a recent one based on ballet, another that had quirky mushroom prints (again, the work of Mom) — this was probably harder to swallow. But personally I like the Mulleavys best when they find a wormhole and plunge in. This kind of total immersion is relatively rare in fashion. The movie-still imagery and sparks of light were a bonus.
Hillary Taymour called her latest Collina Strada collection "Please Don't Eat My Friends." Given fashion's cannibalistic nature, which friends did she mean, exactly? I've already seen two versions of the severely cropped black jacket and low-cut pants that Sarah Burton showed in October on the Alexander McQueen runway, itself a reprise of a late-'90s McQueen "bumster" style. On Friday night, Prabal Gurung showed a similar look, dressed up with gold fringe. What are fashion friends for?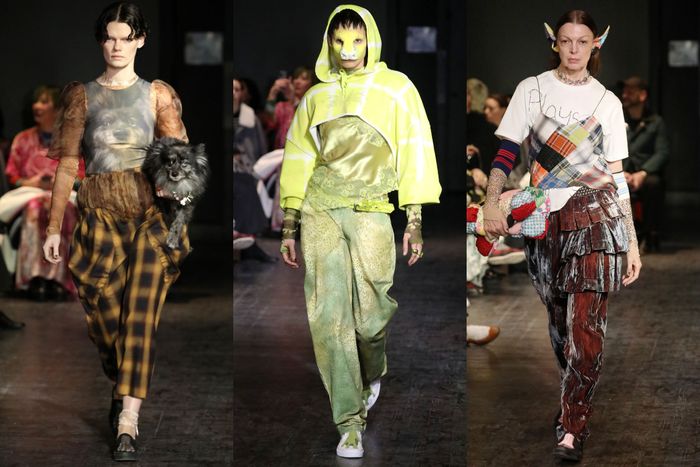 Taymour actually meant wild and domesticated animals. While we were sitting at the former bank building in Williamsburg, earlier in the afternoon, Taymour's makeup artists were attaching ears, snouts, duck bills, and reptile fins to the models' heads. Vans sneakers were painted with furry paws and hooves. At least one model had a tail.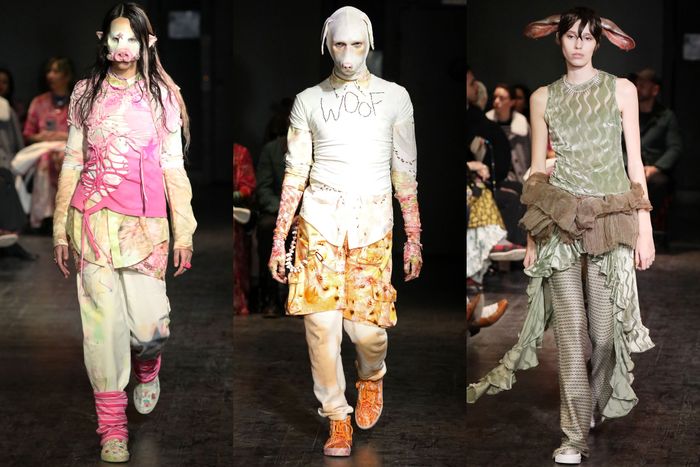 Talk about embracing a trend. Designers have been inexplicably obsessed with animals of late. Think of the giant wooden beasts at Chanel couture last month, the heads at Schiaparelli. As a result, Taymour's concept seemed tame. Still, the collection itself was strong, in particular ultracool plaid cargo pants with a skirt flap at the waist; free-form, open-gauge knit tops and mini-dresses (as if shot from a can of Silly String); and dead-stock velvet dresses.
Before his show, Gurung said that his mother has been encouraging him for years to do a silent retreat, which he finally did for ten days at the end of 2022. "It was challenging," he said, adding that the experience nonetheless restored some balance to his life. It also left him with the feeling that he should stick with his own course in fashion, which is a blend of busy embellishments and classic tailoring and also eastern and western cultures. Before a long front row of dressed up clients, he more or less held that balance with gowns in graphic prints that evoked the sections of a butterfly wing, sharp tailoring with sexy bits (a lovely white satin coat dress with a train), and a big dose of traditionally eastern colors, like saffron and vermilion.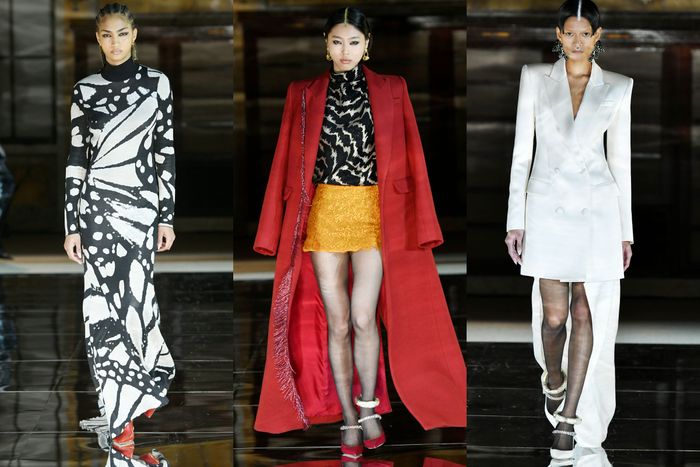 More and more, bold juxtapositions of styles or colors are what pass as good design. In fact, that's what Jil Sander's designers, Luke and Lucie Meier, attempted to do last season — "clashing glamour" into workwear and other elemental shapes. But that approach has been really run into the ground.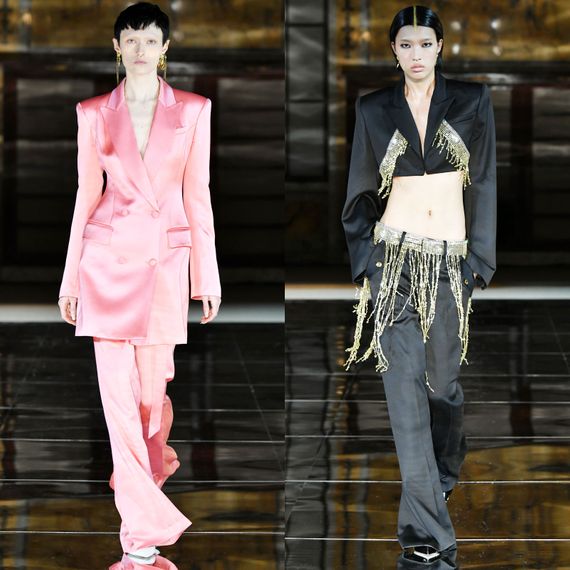 For me, the real sense of mystery in clothing comes not from references or clashes of texture or eccentric trims but, rather, from how a garment is cut. From the pattern-making. "You don't really get it," as the designer Paul Helbers said, referring to why a simple-looking dress holds a certain shape and a jacket falls in a particular way. Helbers, who once worked for Martin Margiela and with Marc Jacobs at Louis Vuitton, is the quiet genius behind Fforme, which he co-founded with Laura Vazquez, who spent many years at Jil Sander, and investor Nina Khosla.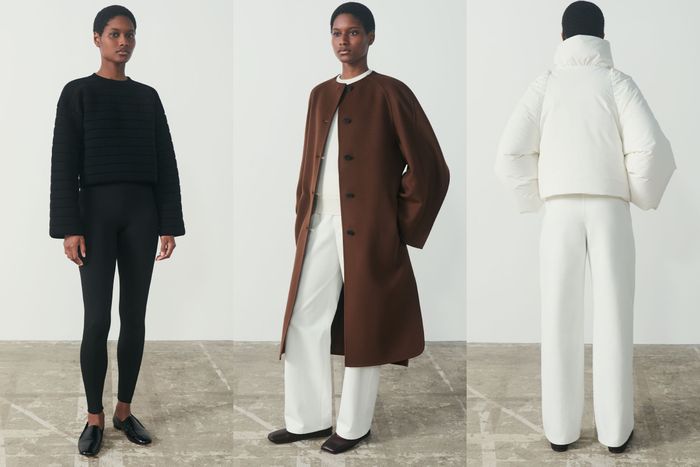 Fforme is now in its third season, and its designs have attracted the notice of a number of prominent retailers, including 180 the Store in Tribeca and Tomorrowland in Japan. For fashion purists — or "nerds," as Helbers lightly puts it — the clothes obviously fill a void for the kinds of minimalist design that Sander once stood for. But, frankly, that description doesn't do Fforme justice. Each style in the relatively small and focused line does something distinctive to the body. Helbers, half-jokingly, calls some of his styles "soft Greek" — meaning that they have an abstract shape that makes them fall softly on the body. For example, a black top has a built-in panel that drapes subtly in front. A cropped black wool jacket has a series of darts along the inside back hem, creating a bit of volume, and a martingale to finish the effect. Helbers used the same dart technique for the elasticized waistband of brown leather trousers. Forty darts create the shape and, in a way, become a detail.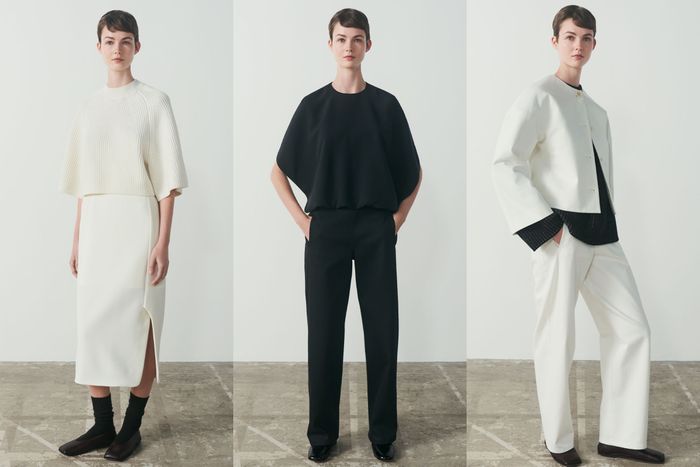 Helbers brought the same skill and consideration to Fforme's first down jackets: In a recycled, high-quality nylon, they are rounded at cuffs, hem, and shoulders for an elegant and subtle 3-D effect.
I could go full nerd and talk about welted seams and 18-gauge silk and a ribbed super-fine merino pullover, as cozy as a sweatshirt, that takes hours to come off its knitting machine somewhere in Italy, but I'll spare you. You don't actually care what goes into the sauce. To know would spoil the pleasure and the mystery of what the brain and the hands can conjure together. For now, the brand's partners are doing small one-on-one presentations. I just hope they one day soon will bring their exquisitely underplayed sense form to the runway. It'll be a heck of a shock.